Ghana is ranked 5th in Africa with the highest offshore oil rig demand, according to the 2024 State of African Energy by the African Energy Chamber.
The country overtook Libya which now is 8th on the continent
An offshore rig demand is made of oil reserves, contingent resources and exploration. It is a large structure on or in water with facilities to drill wells, extract and process oil and natural gas.
According to the African Energy Chamber, Ghana's offshore rig demand shot up over that of 2022. This shows that the nation has some significant oil and natural gas reserves.
The report also stressed that Ghana, Namibia, South Africa, Equatorial Guinea and Mozambique round off the top five countries with the highest percentage of contingent resources rig demand. This implies that rig demand in this particular area is sensitive to expected investment decisions.
"Most other producing countries show very little dependence on upcoming project sanctions to drive their rig demand", it added.
Ghana presently holds about 660 million barrels of proven oil reserves. It produces about 177,000 barrels of oil per day.
Breaking down cumulative offshore rig demand from 2020 to 2030 per country reveals Egypt as the most active country with about 123 rig years followed by Angola and Nigeria.
"The breakdown of the top 20 countries by rig demand with associated split on what resource class is supporting the rig demand suggests majority of the rig demand is robust with only about 32% related to contingent resources and exploration", the report alluded.
Meanwhile, the number of wells drilled on the African continent is estimated to increase to 967 in 2023, a 6 percent year-on-year growth.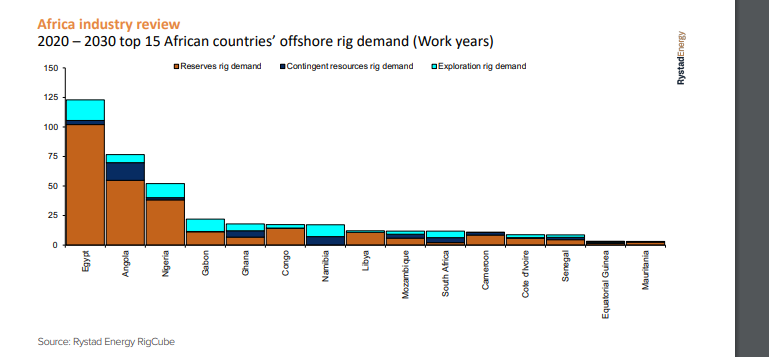 An estimated 810 wells were drilled during 2020 with about 651 or 80% drilled onshore and the remaining 159 or 20% drilled offshore. The trend since then has been an increasing number of wells drilled per year in the post pandemic era.
2021 saw the overall drilling rise to about 820 wells, with a similar split of 80% of those drilled onshore and 20% offshore. 2022 drilling levels saw an 11% year-on-year increase over 2021, with 910 wells drilled in total.
| | |
| --- | --- |
| COUNTRY | POSITION |
| Egypt | 1st |
| Angola | 2nd |
| Nigeria | 3rd |
| Gabon | 4th |
| Ghana | 5th |
| Congo | 6th |
| Namibia | 7th |
| Libya | 8th |
| Mozambique | 9th |
| South Africa | 10th |