The Finance Ministry has dismissed speculations on social media platforms that the Finance Minister, Ken Ofori-Atta has resigned.
In a statement, it said there is no truth in the rumours.
"The Ministry wishes to assure the general public that there is no truth in these rumours. Mr Ken Ofori-Atta is at post and focused on his mandate, given to him by His Excellency the President, to serve the people of Ghana in his capacity as Finance Minister", it explained.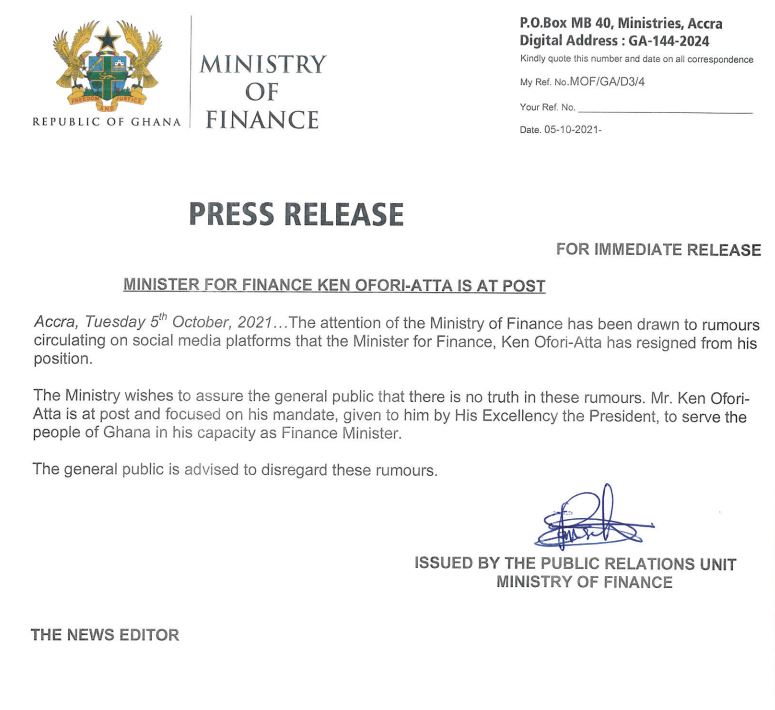 This communiqué was issued by the Ministry on Tuesday, October 5, 2021.
"The general public is advised to disregard these rumours", it concluded.
Earlier this year, the sector minister traveled to the US for medical attention from complications of Covid-19 virus.
Mr Ofori-Atta subsequently returned for parliamentary vetting for his second spell as Minister after Nana Akufo-Addo retained power in the 2020 general elections.